Image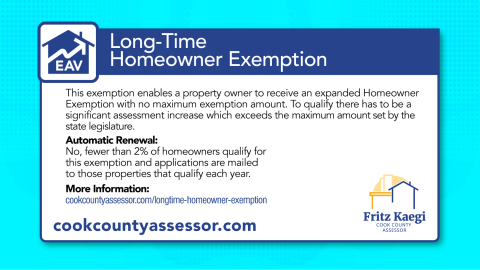 The Longtime Homeowner Exemption enables property owners to receive an expanded Homeowner Exemption with no maximum exemption amount. Of the 1.5 million residential properties in Cook County, fewer than 2% qualified for the Longtime Occupant Homeowner Exemption last year. This is due to the way the state legislature wrote the provision and the requirements they put in place in order to qualify.
The Cook County Assessor's Office automatically detects which properties qualify based on assessment increases and will mail those that may qualify an application to apply.
Due Date: Friday, August 4, 2023
📌 Reminder: Exemptions appear on your second installment tax bill issued later in the year. To learn more about how the property tax system works, click here.